This week at Musical U, we tackle three distinct topics of musicality: songwriting, performance, and planning your musical learning journey.
We discuss a songwriting device that you'll instantly recognize – and why it's crossed the line between tried-and-true and clichéd. We interview a guitar guru on everything from improv and songwriting to musical mindset and overcoming learning roadblocks. We examine the difference between practice and performance, and a surprising truth about playing in front of others. And lastly, we look at self-directed learning, its pitfalls, and the secret to avoiding them.
A Musical Platitude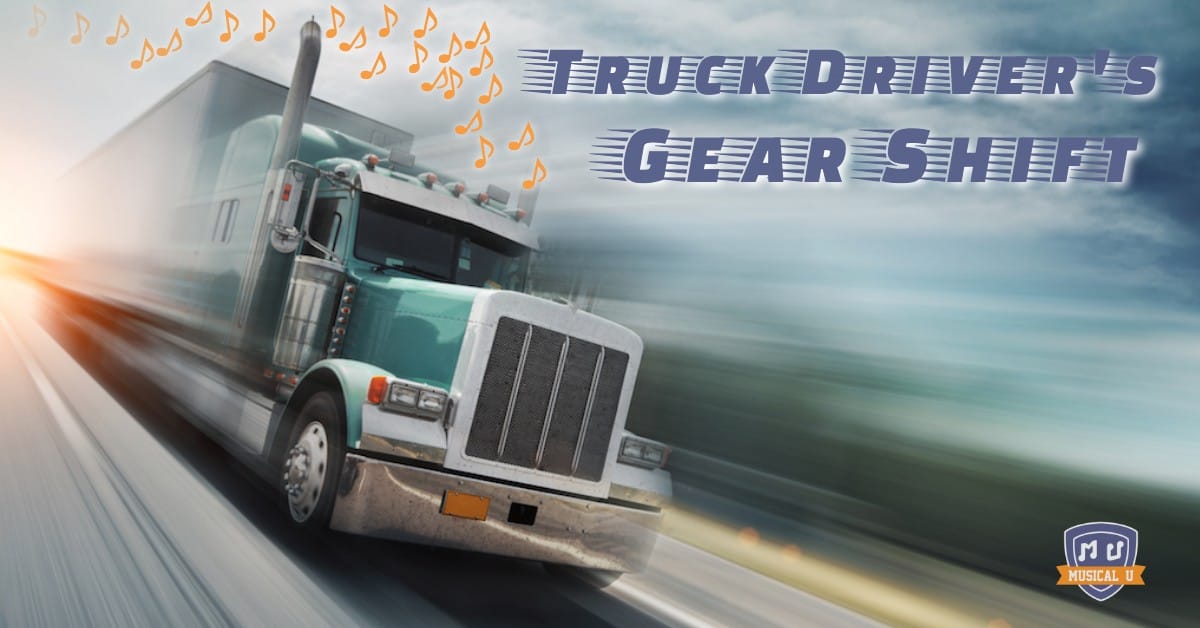 Sometimes, songs don't just write themselves – a creative plateau is hit, and you're unsure where the song is supposed to go next.
For many songwriters, the answer is to change keys. We've all heard it – there's one minute left of a song, and suddenly, the song modulates into a new key, "raising the stakes" and capturing your ear's attention.
However, this trick has been used so much that it's no longer exciting or creative – rather, it sounds cheesy, almost Disney-like.
We explore this phenomenon in The Truck Driver's Gear Shift, where we look at some famous tunes that have used this tactic to great (and not-so-great) effect, and share the secret of avoiding this songwriting trap.
The truck driver's gear shift is often used when a songwriter feels that they need to change up the song to add interest. Any songwriter knows that they will have an occasional bout of writing block, but how can you overcome this? Jennifer Foxx at Music Educator Resources shares how to use pictures and story telling to aid music composition.
Much like the sudden surprise of a key change, there is a particular kind of chord that can have a big impact on your song. Jake from Signals Music Studio shows us the various ways that you can use the "God Chord" for a truly epic change in your song.
At Musical U, many of our members and followers want to become better at writing songs. Despite how easy some of our musical heros make it look, songwriting is a skill that must be worked at. Revolution Harmony has a songwriting mini-course to get those creative juices flowing.
While this article offers one perspective on the truck driver's gear shift's overuse, using key changes is a great way to shift the song you are writing in a completely different direction. And like all things, this is something that you can learn to do well! Kevin from Songwriting Planet explains more about composing with key changes.
Advice from the Guru
The Musicality Podcast's interview episodes are so that you can hear words of musical wisdom directly from the experts.
This week, we interviewed Dave Isaacs, a man known as the "Guitar Guru of Nashville" – and make no mistake, his experience and accomplishments make that title very well-earned. His exploratory approach to songwriting, teaching, and music in general beautifully reflects the wisdom he's gained from over thirty years of teaching, playing, and thinking in-depth about music.
Tune your ears into Follow Your Ear, with Dave Isaacs for the wisdom you've been seeking on topics such as diving into improvisation, improving your songwriting, and how to recover from the dreaded learning "plateau".
Dave shared a story of how he struggled with making it to the next step in his musical growth. So many musicians have experienced similar plateaus in their musical progression! Nicola from Singers Secret has some great advice for taking your playing to the next level.
It was fascinating to hear that Dave was able to apply so much of what he learned as a classical guitar player to his career in Nashville. Learning to play classically can make a big difference in your ability to play in other styles of music. Classical Guitar takes a look at how you can play musically on the classical guitar.
After years of preparation, are you ready to follow in Dave's footsteps and land on Music Row in Nashville? Before packing up the gig bag, take a moment to read these tips from Twin Monarch to make the most of the trek.
Practice or Performance?
Performing, and we mean really performing, is hard. The self-assurance that you've so carefully cultivated during your practice sessions seems to fly out the window, you begin overthinking every move, and your mistakes (whether you've even made them yet or not!) come into full focus. And so, many performers tragically fall into the trap of practicing on stage, or scrutinizing themselves when they should be just… playing.
There's a villain at play, and here's a hint: it's not your audience members.
In Are you practicing on stage – instead of playing?, we look at how to wrestle with this villain – and win.
Of all the great experiences in music, there is nothing quite like the energy and excitement of playing live. Stormer Music explains how performing live can help you grow musically.
You've done it! The venue is booked, the set list carefully written out. All you have to do now is go play that concert. As we've discovered in this article, there is much more to performing live than just showing up and playing. Mella Music has 7 tips to help you make the biggest splash at your next big gig.
No matter how much you prepare, not everyone who shows up to your concert will enjoy your performance. It's just inevitable. But criticism isn't always a bad thing… it may inspire you to work just a bit harder the next time! Ari Koinuma shares these tips for receiving criticism and using it as a learning opportunity.
Learning with Roadmaps
There are countless perks to self-directed learning. With no rigid music curriculum looming over you, you are free to focus on learning what interests you, at a speed that suits you, and in a manner that matches your learning style.
However, with the seemingly infinite supply of music education resources found on the web and beyond, how do you ensure that your learning is focussed, goal-oriented, and produces actual results?
The Holy Grail for the self-taught musician is the almighty Roadmap. In About Having a Roadmap, we explain this flexible training system, how we at Musical U use it to great effect, and why it produces the results that "one size fits all" courses and scattershot learning never will.
The roadmap is such a useful tool when learning music. Having everything laid out right in front of you can help you concentrate on one task at a time – but make sure that you are keeping track of your progress and tasks with a practice calendar and journal. Piano Cub explains more about how to use this is simple yet powerful tool.
Even with a rock solid roadmap that is booked in your calendar, approaching practice with the right mindset and method can make a really big difference. As Liberty Park Music explains, revisiting the fundamentals of practicing is a great way to continue to improve, even for the experienced musician.
Like constructive criticism, a little tough love can be really good for your musical progression. In this episode of the The Modern Musician Podcast, Ben and Dan discuss why it's not enough to be motivated to learn music. It requires hard work and a roadmap on how you are going to achieve your musical goals!
Making Your Time Count
Regardless of whether you're trying to write an impactful song, learn to play a challenging piece, or gain the confidence you need to perform freely and expressively, you want the time that you're devoting to your craft to be well-spent.
This means taking a long, honest look at your practice habits. Or your songwriting approach. Or your long-term goals. And figuring out how to use your time in a smarter way – so that every minute spent practicing is a minute that you are engaged, learning, and working towards a goal.
How do you use roadmaps (or a similar tool) to keep your learning structured, relevant, and motivated?
The post A Musical Platitude, Advice from the Guru, Practice or Performance?, and Learning with Roadmaps appeared first on Musical U.